NEW: "BACH-U" - a series of three Sunday-afternoon lectures offered by the Arizona Bach Festival. Lecture dates are May 5, September 15, and November 17 (all in 2013).
Click here for details and tickets.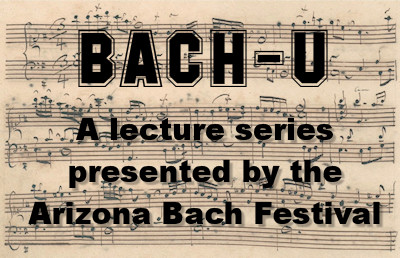 The Arizona Bach Festival Board is actively making plans for our fifth annual festival in 2014. You will want to be sure that you're subscribed to our email newsletter (you'll find a link on our Contact page), and watch our Facebook page and Twitter feed (@AZBachFest) for updates.
• • • • •
The Board of the Arizona Bach Festival extends heartfelt thanks to the artists, venues, donors, patrons, hosts, and volunteers who contribute their talents, resources, and time in support of the Arizona Bach Festival. The musical experiences are exciting and memorable. In order to continue into the future, the Festival will require additional financial support so that we can keep sharing the glorious music of J.S. Bach with Arizona and the world.
Please consider supporting the Festival with a tax-deductible contribution to the "Bring Bach Back" fund-raising drive. Please click here to participate, either by donating or by helping us spread the word to all of your friends, Bach-lovers or otherwise. Thanks!